Christmas Market in Wroclaw - from when to when?
The Christmas Market in Wroclaw traditionally starts in the second half of November and lasts until the end of December. Therefore, not only the inhabitants of the capital of Lower Silesia, but also tourists from all over Poland and Europe can participate in it at their own convenience. This year, the opening of the Christmas Market in Wroclaw is scheduled for 19.11.2021. This means that the Christmas Market will become part of the city's landscape for several weeks - this unique event will last until 31.12.2021. Each day the Christmas Market will be open from 10:00 to 21:00.

Christmas Market in Wroclaw - attractions and programme
A lot of attractions and artistic events will introduce us to the magical atmosphere of Christmas - all detailed information about them is always available in the Christmas Market programme in Wroclaw. What awaits us this year? As early as on 1 December, a music stage will appear by the Christmas tree, where you can enjoy artistic performances of the youngest, Christmas concerts and magic shows on weekends. There will also be a wish-fulfilling Wroclaw Gift Dwarf. This extremely nice dwarf appears only once a year, during the Christmas Market in Wroclaw. When you touch his hat three times, all your dreams have a chance to come true.
Plan of the Christmas Market in Wroclaw
Christmas atmosphere and fairy-tale decorations attract thousands of tourists and inhabitants of Wrocław every year. For over a month, until 31.12.2021, Wroclaw Market Square, Solny Square and Świdnicka and Oławska streets will be filled with attractions for children and adults. On the plan of the Christmas Market in Wroclaw you can find:
Fairytale Forest - a magical place for the youngest visitors to the Fair. Wonderful fairy tales will introduce a fairytale atmosphere thanks to magical visuals and musical setting;
handicraft workshops of painting baubles - a new house, which will appear next to the traditional Christmas Windmill
carousels for children, located throughout the Fair;
Dwarf and Reindeer Land - next to the Fredro statue;
Dwarf Mushroom - located by the five-storey Dwarf House, where you can enter and take a souvenir photo;
Illuminated sleigh with colourful presents;
Santa's carriage with Rudolf the reindeer;
Rudolf and friends" children's carousel - a novelty for the youngest right next to the Wrocław Christmas tree;
Fireplace House, which will stand on the northern frontage of the Market Square, where you will be able to warm yourself by a real fire and a Wrocław mulled wine;
The Gate of the Christmas Market on Świdnicka Street, which will introduce all visitors to the magical atmosphere and is a harbinger of an extraordinary Christmas adventure.
What can you buy at the Christmas market?
As every year, at the Christmas Market you will find Christmas markets. Christmas goods, handicrafts, artistic works, regional food products, original foreign delicacies or natural cosmetics - these are just a few examples of what you can buy at the Christmas Market in Wroclaw.
But that's not all - a walk around the Christmas Market in Wroclaw is a true culinary journey around the world. For all lovers of both new and well-known flavours there will be a multitude of different delicacies waiting - from puff pastry, through the original halva, to potato dumplings! Turkish yeast cake, alsatian scones, borek with spinach, flammkuchen - doesn't that sound delicious? There will also be delicious sweets, chocolate-covered fruit and spanish doughnuts. polish specialities such as traditional bigos, potatoes with herring, kwaśnica and a whole range of grilled dishes will also be waiting for visitors in the wooden huts. There is sure to be something for everyone at this year's Christmas Market!

Mugs from the Wroclaw Christmas Market
An inseparable symbol of the Wroclaw Christmas Market are boot-shaped mugs in which aromatic mulled wine is served. Every year a limited edition of mugs is prepared, thanks to which each of them is absolutely unique. The mug from the Wroclław Christmas Market of 2021 may become both a wonderful souvenir and the nucleus of an original collection and a wonderful gift for family and friends.
Christmas Market in Wroclaw - accommodation and parking
If you're visiting the capital of Lower Silesia during the Christmas Market, it's worth thinking ahead and booking accommodation in a hotel in Wroclaw near the Market Square. Parking in the city centre can be difficult and expensive, but by staying at Europeum Hotel you won't have to worry about parking near the Christmas Market. We have both indoor and outdoor parking spaces, and you'll be just a 5-minute walk from the Market.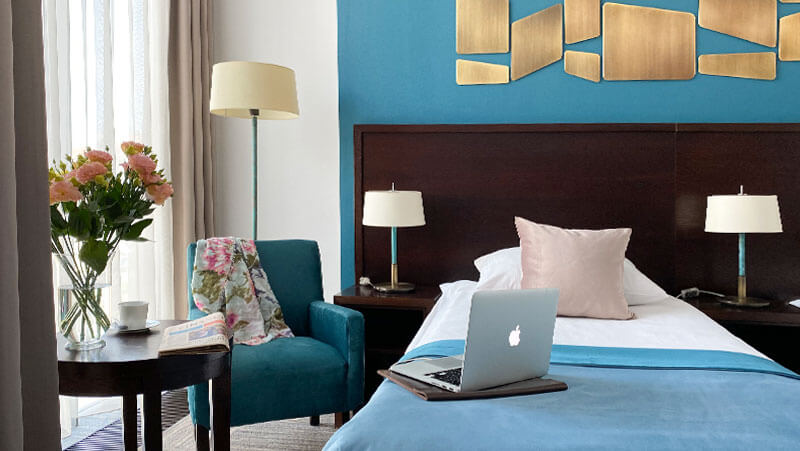 photos Pianoforte Agencja Artystyczna - www.jarmarkbozonarodzeniowy.com