Indulge your senses, relax, and let go of stress and thoughts.
We guarantee that in our offer of spa treatments for body and face, which meet the needs of both body and spirit, everyone will find something for themselves. Let our experienced specialists from SPA RUBUS by Magda Prukop take care of you and move to the land of luxury, relaxation and beauty. Plan your stay today and book your favourite treatment in advance.
You are welcome to the SPA at the EUROPEUM Hotel!
Massage
| | | |
| --- | --- | --- |
| Classic back relaxation | 45 min | 135 PLN |
| Relaxing your back with a hot soy candle | 45 min | 165 PLN |
| Classic relaxation for the whole body | 60 min | 255 PLN |
| Classic full body relaxation with peeling | 90 min | 285 PLN |
| Full body relaxation with a hot candle | 60 min | 285 PLN |
| Relaxing full body hot candle with peeling | 90 min | 215 PLN |
SPA
The Rubus paradise is an express facelift
A treatment covering the area of the face, neck, neckline and shoulders, based on manual therapy (massage) with peeling and a nourishing cream or algae mask that regenerates and moisturizes the skin.
60 min
215 PLN
Raspberry skin detox
A treatment that includes an intensive massage of the face, neck and cleavage with the use of cosmetics supporting cleansing the skin, peeling, massage, detox algae mask.
60 min
235 PLN
Intensive moisturizing
A moisturizing treatment for the skin of the face, neck and neckline based on hyaluronic acid and massage with jade rollers and gua sha stones.
60 min
235 PLN
Raspberry look
An anti-wrinkle treatment for the eye area
30 min
185 PLN
About Rubus
RUBUS Cosmetic Atelier is a place in the heart of Wroclaw, created with passion for body care. We focus on the unique atmosphere, pleasant interior and soothing music. Our offer is addressed to ladies and gentlemen of all ages. You can enjoy manicures, pedicures, massages, facials, body treatments, body shaping, laser hair removal. We work with medical equipment of the highest quality, and our treatments are carried out with natural cosmetics of ESSE brand, being also an authorised salon of this brand. We have a holistic approach to our work, taking into account the natural beauty and individual needs of the skin. Using treatments in RUBUS you will be taken care of by a team of professionals in the field of cosmetology. We have been operating on the market since 2012. We would like to invite you to our locations: the Salon at Tadeusza Kościuszki 2/1 and the SPA at the EUROPEUM Hotel at Kazimierza Wielkiego 27A.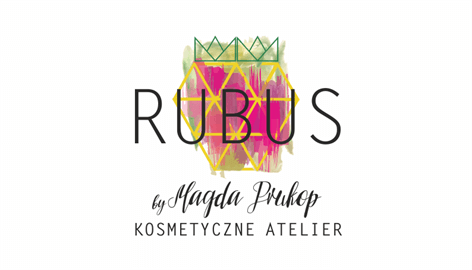 SPECIALIST TREATMENTS
For this type of treatment we invite you to the centre RUBUS Cosmetic Atelier at Tadeusza Kościuszki Street 2/1. The salon is located at a distance of 700m from the Hotel (7 minutes walk).
In case of ordering and performing the service directly in RUBUS SPA by Magda Prukop, the settlement will be based on the current price list available in the salon.
Facial treatments
Bloomea
A non-invasive cosmetic treatment that rebuilds the skin with the use of bloomea technology, consists in exfoliating the epidermis, introducing a nutritional cocktail and soothing the skin with a nourishing mask. During the treatment, infrared is used and massage with oscillating vibrations, which supports the reconstruction of the skin. The skin after the treatment is visibly rejuvenated, brightened - glow effect, smooth with even color.
BLOOMEA Face
60 min
320 PLN
BLOOMEA Face+ Neck
75 min
360 PLN
BLOOMEA Face+ Neck+ Neckline
90 min
399 PLN
Ultra hydrogen purification
A healing treatment consisting in cleansing the skin of the face, neck and décolleté of persistent blackheads. It calms down inflammation, supports the regeneration of the epidermis, refreshes the skin, evens out the color, after the treatment the skin is visibly rejuvenated, brightened and rested. The treatment brings the best results of cleansing when it is performed in a series of several treatments in quick succession.
60 - 90 min
250 PLN
Ultra cleansing raspberry freshness
Classic manual cleansing of the skin of the face along with softening the epidermis and cavitation peeling.
100 min
200 PLN
An electrifying raspberry
A NEEDLE-FREE MESOTHERAPY treatment involving the intensive introduction of active ingredients with the use of electroporation technology. It is a painless and non-invasive method of nourishing, brightening, rejuvenating and counteracting skin problems (e.g. in the case of acne). A modern technique that supports the penetration of valuable ingredients deep into your skin.
90 min
180 - 350 PLN
Manicure
| | | |
| --- | --- | --- |
| care (preparation of cuticles, filing the plate, painting with conditioner) | 60 min | 60 PLN |
| Japanese (nourishing manicure therapy of damaged nails, without painting) | 60 min | 90 PLN |
| with classic varnish | 60 min | 80 PLN |
| with hybrid varnish painting | 90 min | 110 PLN |
| TITANIUM (powder manicure that strengthens the nail plate, with permanent painting without the use of a UV lamp) | 120 min | 130 PLN |
| hardening the natural nail plate with gel with hybrid varnish painting | 120 min | 140 PLN |
| with plate extension and painting with hybrid varnish | 120 min | 160 PLN |
Pedicure
| | | |
| --- | --- | --- |
| classic without painting the nail plate (for men and women) | 100 min | 120 PLN |
| with classic varnish | 120 min | 140 PLN |
| with hybrid varnish painting | 120 min | 150 PLN |
Beauty treatments
| | | |
| --- | --- | --- |
| henna and eyebrow shaping | 30 min | 50 - 80 PLN |
| eyebrow lamination | 45 min | 120 PLN |
| eyelash lift with coloring and conditioner | 45 min | 180 PLN |
| occasional makeup | 60 min | 150 PLN |
| make-up school individual classes | 60 min | 100 PLN |
To book a SPA service, please contact the Reception at least 24 hours before the planned treatment.
PHONE: +48 71 371 44 00