Bicycle paths in Wrocław
Cycling is above all an active form of recreation, thanks to which you can see more and spend a nice time with your family or friends, at the same time taking care of the environment and your fitness. Active recreation in times when many of us spend most of our days behind a desk is essential, and a bike really gives a lot of fun and possibilities - even in the city.
Wrocław is the starting point for many cycle paths and trails, which stretch for tens of kilometres surrounded by amazing views. Both to the south and north of the city you can find nice cycling routes in Wrocław, suitable for beginners as well as more experienced cyclists. In the capital of Lower Silesia, as many as 1100 km of cycling routes have been marked out. These include bike paths, routes leading along floodbanks or paths in parks. Cyclists can use 9200 parking spaces and about 20 repair stations. There are no major hills in the capital of Lower Silesia and the existing height differences are minimal, which will be appreciated especially by less experienced cyclists.
On the cycling map of Wrocław, routes along the Odra River and the canals are popular. Many cyclists also have their favourite routes leading through parks. It is easier to use a bicycle to visit districts and housing estates located further from the city centre, such as Osobowice, Brochów, Krzyki, Karłowice or the area of the former Oder harbour. It is also worth visiting Pawlowice, Wojnowice or Trestna, which lie right on the city's border. On several regularly updated services, you can also find maps of cycling paths in Wrocław and its surroundings and ready-made plans and proposals for an interesting trip.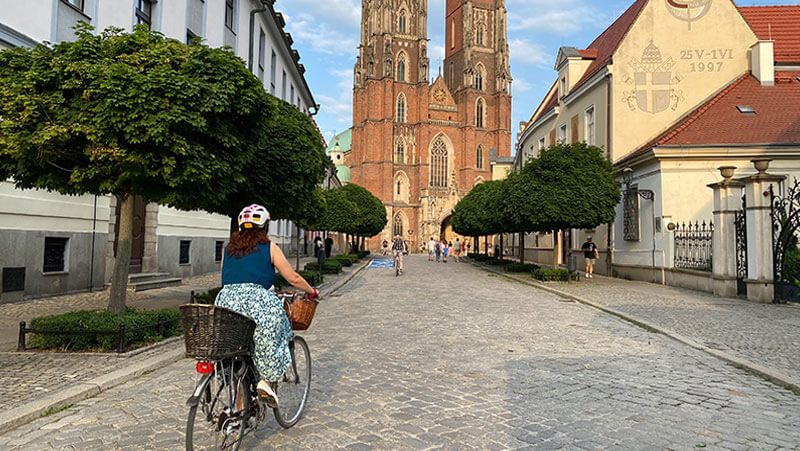 Visiting Wrocław by bike - interesting cycling routes
For those who dream of a long tour around the city, the 38km route around Wrocław is ideal. Depending on your pace, this will take you from 2 to 4 hours. What is more, the route has been planned in such a way that more or less every hour we can make a break in one of Wrocław parks - Skowroni, Południowa or Biskupiński. The route goes through Odra Embankment, around Biskupin, Niskie Łąki, Armii Krajowej Street, Skowroni Park, Southern Park, FAT, Estakada, Milenijny Bridge, Nowak Jeziorański Street and Żmigrodzka Street.
If you want to cycle along the Oder River in Wrocław, the distance can be as much as 27 km. It's worth starting your trip at the National Museum and finishing it there - then you won't be unfamiliar with either bank of the river. Or do you want to leave the city behind? Then head for the Pilczycki Forest - the 18-kilometre route will allow you to relax and get away from the hustle and bustle of the city.
If your plan is to explore the whole of Wrocław by bike, take the route from Leśnica to Psie Pole. On the way, we recommend visiting the Old Jewish Cemetery. Behind the high walls surrounding it, covered with thick ivy, there is one of the most mysterious places in Wrocław. The route itself is 46 km long.
Trips and cycling routes in the Wrocław area
Visiting nearby towns and villages is made easier by cycle paths in the Wrocław area. One of the most interesting is the route connecting the city with Trzebnica, Żmigród and Milicz. Until 1991, there was a narrow-gauge railway on this route, which has been followed by a cycle trail. It leads almost entirely along asphalt and paved paths with full signposting and all safety devices that meet the requirements of cyclists. The route leads through Prusice, Pietrowice Małe, Ligotka and Dobrosławice. The trail is recommended both for beginners and those who enjoy long distances on two wheels.
One of the most popular choices of cyclists who like organised cycling routes is the EuroVelo9 trail running towards Trzebnica. For those who prefer shorter but still interesting distances, we suggest starting in Psie Pole and riding through Zakrzów towards Pawłowice. In Pawłowice itself, you can make your first stop - at a 19th century Neo-Renaissance palace. Further points on the route include Ramiszów, a village known for its numerous horse stables, Pasikurowice, Siedlec Trzebnicki and Godzieszowa.
Picturesque routes along the Oder, a well-developed infrastructure and many places which can be easily reached on two wheels - Wrocław is a real paradise for cyclists. The Europeum knows this very well, which is why our guests have the opportunity to hire bicycles free of charge. Our hotel in Wrocław near the Market Square is also an ideal starting point to explore the capital of Lower Silesia and its surroundings on two wheels.