According to tradition, Easter specials must be prepared on Great Friday. In addition, we should be in a hurry, because, after the blessing of the eggs on Saturday, nothing should be prepared or cleaned up. Easter dishes include sour rye soup with egg and white sausage, vegetable salad, roasted pork loin with plum, homemade pates, beetroot with horseradish, stuffed eggs, cheesecake, Easter cake, Mazurek and many, many more. We will share with you our recipes for some Easter delicacies. It will be delicious. Are you Ready?
1. Sour rye soup with egg and sausage
First, preferably the day before, let's boil the vegetable broth. We prepare it from a few vegetables, without the addition of herbs. Grate: a piece of celery tuber, parsley root, peeled carrot. Add the leek, pour 1.5 liters of water and simmer for an hour, then strain. The basis of a good sour rye soup is rye leaven. Prepare the leaven * with lots of garlic.
* Sourdough recipe: pour 1 cup of flour into a liter jar and gradually pour 3 cups of lukewarm water, stirring quickly with a wooden spoon so that it does not form lumps. We throw the crushed garlic (3 cloves) into the jar. Plus allspice, bay leaves, and peppercorns. We mix. Cover the jar with gauze and put it in a warm place for about 5 days. Stir the leaven with a wooden spoon at least once a day.
Now let's get down to the sour rye soup: prepare yourself raw smoked bacon, dry and white sausage. Dice the bacon into small cubes. Slice the sausages. Fry the bacon for a few minutes in the pan. Also, add both sausages and fry for 4-5 minutes. At the same time, pour the vegetable stock into a medium pot. Set the burner to medium power and heat to boiling. Put the entire contents of the pan into the boiling vegetable broth. Boil the soup for about 5 minutes. Pour the entire sourdough into the soup. You have to stir it beforehand to pour the entire contents into the soup. Also add spices: 1 crushed grain of allspice; 1 bay leaf; 1/4 teaspoon of garlic and salt; 1⁄2 teaspoon of marjoram. Bring the soup to a boil, stirring constantly. The sour rye soup will slowly start to thicken. A few minutes of cooking is enough. Finally, add 3 tablespoons of sweet cream 30% as well. If you prefer to use high-sour cream, remember to pour some boiling sour cream into a glass. Mix the decoction with the cream and pour it back into the sour soup.
Components:
1 liter of vegetable broth
500 ml of rye sourdough soup
spices: 1 crushed grain of allspice; 1 bay leaf; 1/4 teaspoon of garlic and salt; 1⁄2 teaspoon of marjoram
100 g of ordinary semi-dried sausage
200 g raw or scalded white sausage
200 g of raw smoked bacon
3 tablespoons of cream 30%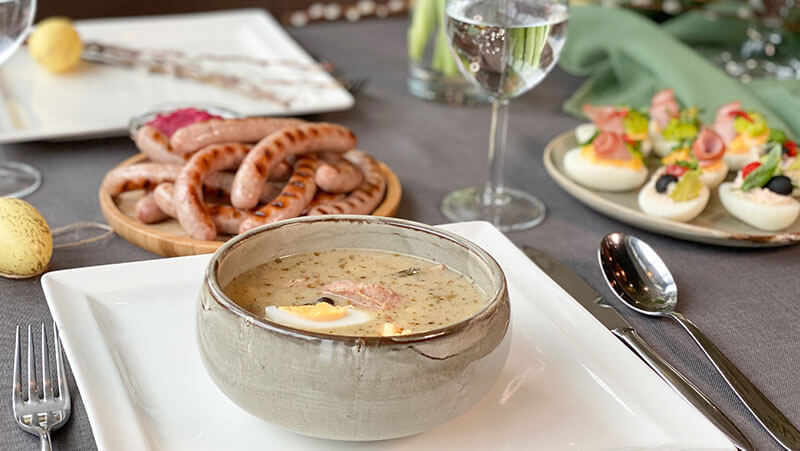 2. Vegetarian chickpea pate with cranberries'
Soak the chickpeas overnight in cold water (at least 12 hours). Pour off the water in which it was soaked, pour it over with fresh, slightly salted water, and cook over low heat for 1.5 hours. Drain and cool. Grate the carrots and zucchini on the coarse mesh and put them on a sieve. Put the chickpeas in a blender and blend until smooth. Add bran, grated carrot, and zucchini, egg, water, grated garlic clove, breadcrumbs, salt, and pepper to the blended mass. We blend everything a few times, but not to a completely smooth mass. Finally, add the cranberries, put them in the oven preheated to 180 degrees Celsius, and bake for about 50 minutes. Put it on the plate only after it has cooled down.
Components:
2 medium celery roots - 800 g
1 medium carrot - 130 g
1 medium onion - 200 g
half a red pepper - 140 g
6 cloves of garlic - 30 g
3 medium eggs
5 tablespoons of breadcrumbs - 50 g
50 g of clarified butter
spices: a teaspoon of marjoram; a flat teaspoon of salt; half a teaspoon of pepper
3. Easter cake
Melt the margarine (it can also be butter) in a pot over low heat, being careful that it does not burn, and start cooking. Grate the eggs with sugar into a fluffy cream. Add both flours mixed with baking powder and mix thoroughly. You can also mix it. Then add the vanilla flavor and mix again. In the end, add the dissolved margarine, slowly pouring in, stir all the time and make sure that the dough does not become lumps of flour. Coat the cake mold with margarine and sprinkle with breadcrumbs. We spread the dough with a spoon, leveling the surface. Bake the sand cake for 1 hour at 175 degrees C. We study it, carefully take it out of the mold, sprinkle it with powdered sugar through a strainer, and enjoy the wonderful taste and smell. To diversify the whole, while preparing the dough, we can pour a few drops of vanilla or lemon aroma.
Components:
25 grams of margarine
4 eggs
1 cup of sugar
1 cup of wheat flour
3/4 cup of potato flour
1.5 teaspoons of baking powder
vanilla flavor
powdered sugar for sprinkling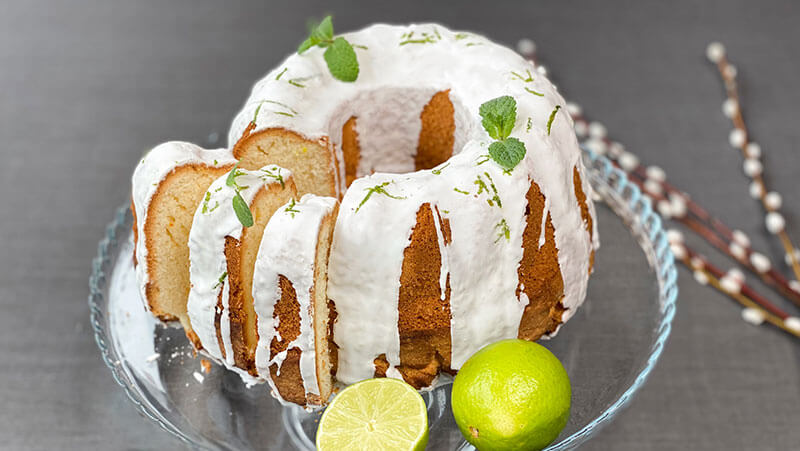 Try other recipes of our chefs!
Successful recipe for Fat Thursday