Actually, we are not surprised by such a choice, after all, who does not wait all year for a day when you can eat delicious, warm, stuffed donuts for breakfast, lunch, and dinner, without any remorse? Well, once we have established that this is the best celebration of the year, maybe we will introduce you to its history and meaning …
Well, the point is that Fat Thursday begins the last week of Carnival, and at the same time it is the last Thursday before Lent (i.e. 52 days before Easter), so you need to make good use of it. Previously, it was also called carnivorous, because donuts stuffed with bacon, and meat were eaten and washed down with vodka. However, currently, the practice is mainly to eat only any number of donuts with sweet fillings or faworks (brushwood). This tradition is most widespread in Poland and the Catholic part of Germany. As it is a moveable holiday, it can fall on January 29 and March 4.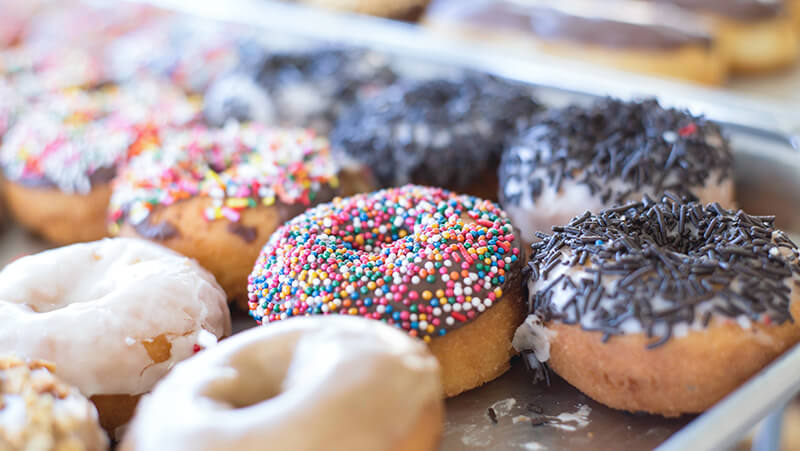 Every year, at the Hotel Europeum, delicious donuts with various fillings, icing, or powdered sugar were waiting for our guests at the hotel reception. Memories of eating these delicacies together bring smiles to our faces. This year, unfortunately, we cannot continue this nice tradition, but we have recipes for delicious donuts and faworks to be made at home:
1. Traditional, homemade donut:
Ingredients for about 20 pieces:
Yeast dough:
500g of wheat flour
50g of fresh yeast or 14g of instant yeast
100g of butter (or margarine)
100g of sugar
4 yolks
1 egg
250ml of milk
1 tablespoon of spirit (vodka or rum)
Additionally:
jam or preserves
oil or lard for frying

A method of preparing:
1. Prepare the leaven. Mix slightly warm milk with 1 teaspoon of sugar, crushed yeast, and approx. 5 tablespoons of flour. Cover with a cloth and set aside in a warm place to rise for about 10-15 minutes.
2. Melt the butter (or margarine).
3. Beat the yolks, egg, and remaining sugar in a water bath. (Beat for about 10 minutes).
4. Pour the rest of the flour into a large bowl. Add leaven and egg mixture. Start kneading the dough. While kneading, add the melted butter. Knead the dough into a smooth, elastic mass. In the end, add the spirit and knead again. (The dough is very sticky. It's best not to add any more flour).
5. Cover the bowl with the dough with a cloth and leave it in a warm place for about 40-60 minutes, until it doubles in size.
6. Transfer the dough to a coarsely floured surface and roll it out to a thickness of about 1 cm. Cut discs with a diameter of 7 cm from it. (We use a glass).
7. Place the filling on half of the rings and cover with the remaining rings. The edges stick together well.
8. Place donuts on a floured worktop, cover with a cloth and leave to rise for about 30 minutes. Donuts should be light and fluffy.
9. Fry in batches in hot fat in a large pot on both sides. (There must be a lot of fat for the donuts to float freely in it. If the donuts are well puffed up, a characteristic white border will appear during baking. The temperature of the fat should be approx. 175 ° C). Place the donuts with the raised side down and fry for about 2 minutes on each side.
10. Place donuts on paper towels so that the fat drips off.
11. Sprinkle the donuts with powdered sugar or cover them. The most delicious is fresh. (If you want to make the icing, mix 1 cup of sifted powdered sugar with enough hot water to get the icing of the desired thickness. If it is too thin, add more powdered sugar, and if it is too thick a little water).
2. Faworki (brushwood)
Ingredients:
2 cups of plain flour (= 300 g)
4 yolks
1 tablespoon of spirit (or 6% vinegar)
½ teaspoon of sugar
½ teaspoon of salt
about 5 heaped tablespoons of thick sour cream
oil or lard for frying
powdered sugar for sprinkling
A method of preparing:
Mix the flour with sugar and salt. Add egg yolks, spirit and cream. Knead to a homogeneous mass. Then put the dough on the table top and beat it with a wooden rolling pin for about 10-15 minutes. (Hit the dough with a rolling pin, flattening it, then roll it up again and roll it again with a rolling pin. The dough will be uniform, elastic, and brittle after frying and with lots of bubbles).
Roll out the dough in portions thinly on the countertop lightly sprinkled with flour. (It is important to sprinkle the top with as little flour as possible. Cover the dough waiting to be rolled out with a cloth so that it does not dry out). First, cut the dough into strips about 3 - 4 cm wide, then into rectangles or parallelograms about 9 - 10 cm long. (we do it by eye so that the faworki look nice;)). Score each piece in the center and pass one end through the score.
Faworki fry in hot fat on both sides until golden brown. Remove with a slotted spoon and drain the fat on a paper towel. When they cool down, sprinkle with powdered sugar.

Let us know on our social media how the recipes were successful and what they looked like! Enjoy your meal!